E -Mail : shreeyantra@nilagems.com

Shri Villa, D-10 / 75,

Chitaranjan Nagar,

R.N.gandhi road, Rajawadi,

Vidhyavihar - East.

Bombay-400 077

Maharastra. India.
( walkable distance from vidhyavihar station )


Tel - 091-22-21025569 / 21022559 / 9869416481

2 inches & 3 inches24 carat gold ( 995 ) shree yantra 2 inches & 3 inches silver shree yantra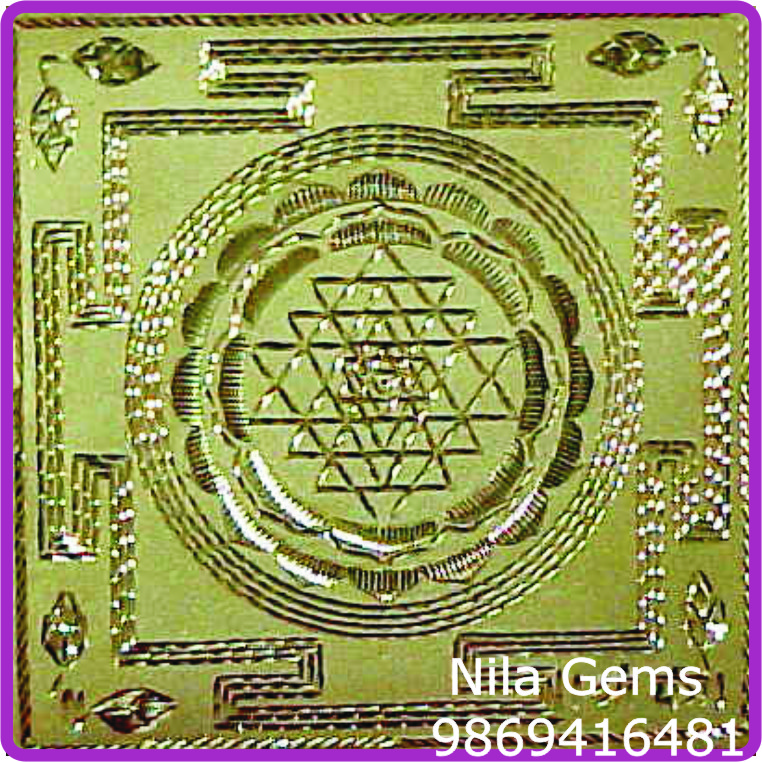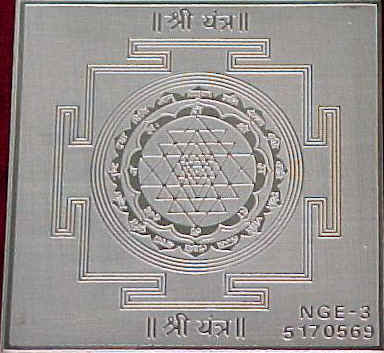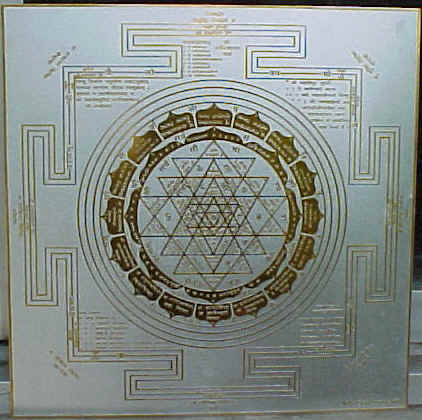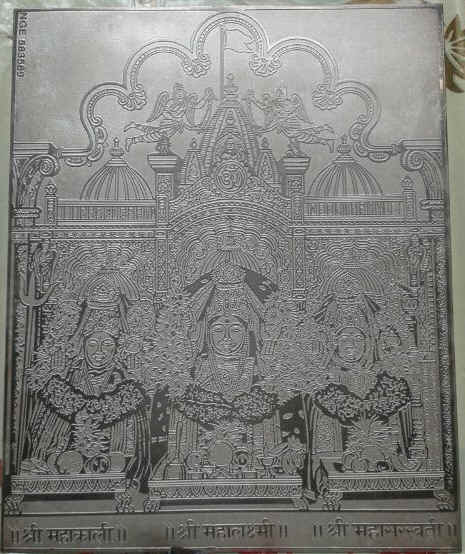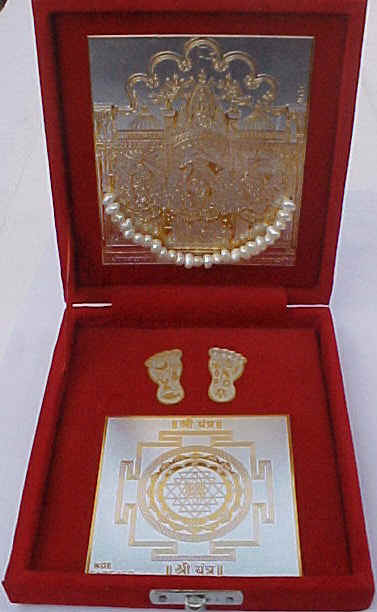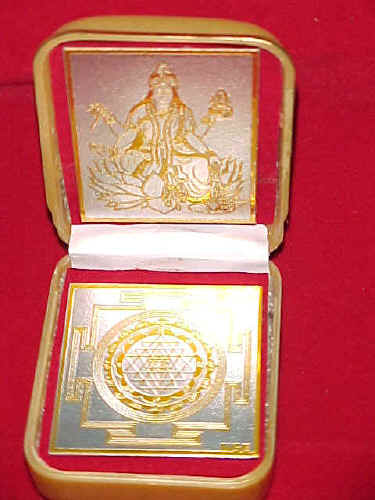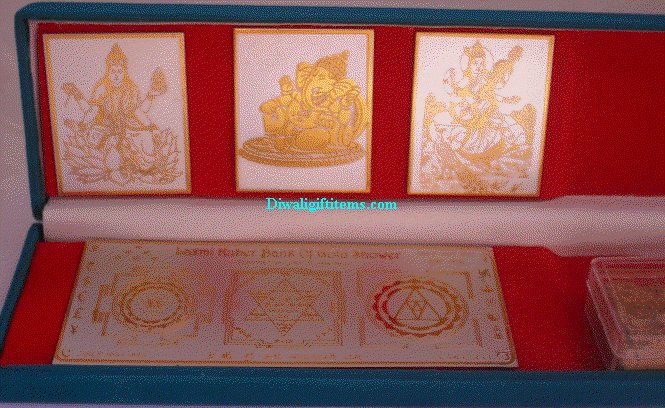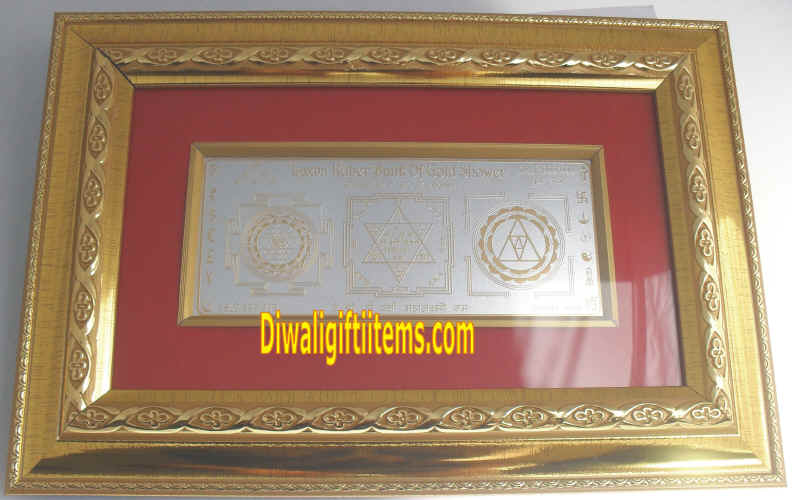 SHREE YANTRA
Shree yantra is the Yantra of Godess Tripurasundri. written in Saunderyalahri, also know as Yantraraj, king of all the Yantra, by the worship of this Yantra we achieve all the goal of life, Financial Sound Position, Happiness Success in life.
With every Yantra we send the details, how to perform Pooja, Sthapana, Hawan[ Yagna ],etc..
Mantras :
OM SHRIM NAMAH :
OM SHRIM HRIM KLIM MAHALAXMYEE NAMAH :
OM SHRIM HRIM SHRIM KAMLE KAMLALAYE PRASID PRASID
SHRIM HRIM SHRIM OM MAHALAXMYEE NAMAH :
AIM KLIM SAUHAM

This Shree Yantra established in the Temple, Home, Factory, Office, in the Pocket, etc..
This Shree Yantra is already present in Temples eg... Shreenathji, Tirupati Balaji, Somnath Mahadev, in Jain Derasars, it is burried in land where new construction is to be carried out for Vastu purpose.
It is available in PURE SILVER[999], GOLD, COPPER, & SILVER GOLD FINISHED METAL.

SILVER.... size 2" X 2" Rs. 4000/= [India] $ 100.00 with forwarding charges
3" x 3" Rs. 9000/= [India] $ 200.00 with forwarding charges
4" x 4" Rs. 15000/= [India] $ 300.00 with forwarding charges
with all the mantras 11" x11" Rs. 200000/=[India] $4000.00 with forwarding charges
5" x 5" to 10" x 10" sizes can be made as per order.
GOLD.......... 2" X 2" Rs. 80000/= [India] $ 1500.00 with forwarding charges
3" X 3" Rs. 175000/= [India] $ 3000.00 with forwarding charges
COOPER.......... 2" X 2" Rs. 480/= [India] for out of India not possible because of the forwarding cost which is far more than the cost of yantra.
3" x 3" Rs. 1080/= [India] ................."..............."............."............."............... 4" x 4" Rs. 2000/= [India] ................."..............."............."............."...............
with mantras 11" x 11" Rs. 15000/= [india] $ 250.00 with forwarding charges
Silver-Gold finished 11" X 11" Rs..4500 /= with frame, [india] $ 100.00 with forwarding charges.( without glass or with acrylic )
Please send the Full detail of your NAME & ADDRESS & DEMAND DRAFT of above mentioned amount in RS. or $, on the name of
NILA GEMS EXPORTERS
Shri Villa, D - 10 / 75, Chittaranjan Nagar, R.N.Gandhi Road, Rajawadi, Ghatkopar-East. Bomaby-400 077.
Maharastra. India. Tel....091-22-21025569 / 9869416481
Swift transfer
Inform to your bank, as follows, pl. remit the funds to the credit of

ANDHRA Bank AC NO: 89 000 450 35 UID 131962
SWIFT CODE: ANDBINBB with bank Of New York, NY. USA.
Further credit TO
NILA GEMS EXPORTERS
ANDHRA BANK, CURRENT A/C NO.. 058811011001048 RAJAWADI BRANCH,
GHATKOPAR-EAST. MUMBAI - 400 077. MAHARASTRA. INDIA.
Click here for more details
Articles
Astrology
Ayurved
Debit
Delay mairrage
Hawan
Know your future

Kalsarp yog
Horoscope
Vastu
Money problem
Suffer
Web
Jewellary
Gems & jewellary
Silver engraving
Stone engraving
Gold shree yantra
Mairrage Beuro
Mangalfera mairrage beuro
Male profile
Female profile
Nityadevdarshan
Nitya dev darshan
Ghantakaran mahavir
Mahalaxmi
Navgrah
Padmavati devi
Shreenathji
Sthapanaji

Precious Stones
Amethyst
Blue sapphire
Cat's eye
Coral
Diamond
Emerald
Gomed
Onex
Pearl

Precious stones
Ruby
Topaz
Tourmaline
Yellow sapphire
shivling

Yantras
Akarshan yantra
Baglamukhi yantra
Chamunda visa yantra
Kuber yantra
Crystal shree yantra

Ghantakaran mahavir yantra
Laxmi ganesh yantra
Mahalaxmi visa yantra
Shree yantra

Navgrah yantra
Padmavati devi yantra
Sani yantra
Vivahkar yantra
Yantras list

Reiki
Pyramid & Pencil etc..


our valuble clients are

asianoil janthm janthp sulpholane astrologer charuben

astrologer pratibhaben astrologer j.nath